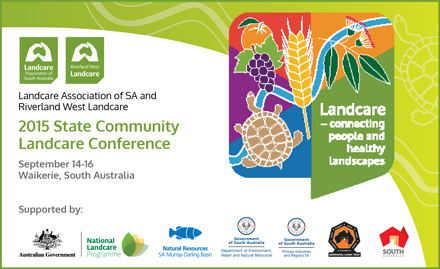 The conference addresses Landcare – connecting people and healthy landscapes and will give landcarers from all sectors of the community the opportunity to explore the 4 themes of the Conference: Biodiversity – Management and Conservation; Indigenous Land Management; People and Volunteers; and Sustainable Farming and Fishing.
The conference includes the 2015 State Landcare and Premier's Natural Resource Management Award Presentations.
Registration for the Conference is now open.
Early bird registrations are open until the end of July 2015. Please register for the event by Friday 11th September.
Click here to register online.
More information here – www.landcaresa.asn.au or email Executive Officer Landcare
2015-09-14 00:00
2015-09-14 00:00
Australia/Adelaide
2015 State Community Landcare Conference 
The conference addresses Landcare – connecting people and healthy landscapes and will give landcarers from all sectors of the community the opportunity to explore the 4 themes of the Conference: Biodiversity – Management and Conservation; Indigenous Land Management; People and Volunteers; and Sustainable Farming and Fishing. The conference includes the 2015 State Landcare and Premier's […]
info@adamidesign.com.au