BOOK YOUR SEATS NOW to this FREE WORLD PREMIERE of MURRAY THE MUSICAL- STICKING OUR NECKS OUT.
You wouldn't want to miss getting up close and personal with a few of our local turtle activists as well as Mary, a very unique Queensland turtle with an amazing secret to share, Waltzing politicians (you might be over politicians but you won't want to miss this lot!),  Con the maverick consultant!, Barney and Doug the rapping sustainable farmers taking action! or the shifty Mr Wallett?
This show is an entertaining snapshot of the drought years written by local people who lived through the experience.
It has humour, satire, pathos and shares the sentiments of the different Lakes and River communities of interest and their love for and dependence on the region. It is also bold enough to suggest the solution if we accept that Everything is Connected. This is the chorus of one of the great new songs included in the production. Its also a lot of fun and the cast and crew hope you will come along and enjoy this free show with them.  Donations at the show would be appreciated.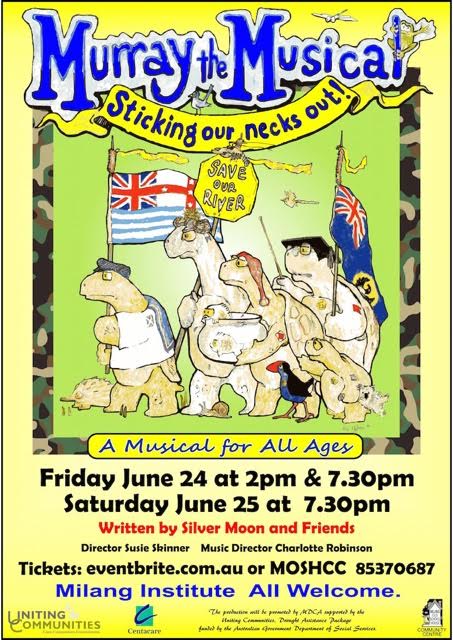 2016-06-24 14:00
2016-06-24 14:00
Australia/Adelaide
Murray the Musical – Sticking our necks out!
BOOK YOUR SEATS NOW to this FREE WORLD PREMIERE of MURRAY THE MUSICAL- STICKING OUR NECKS OUT. You wouldn't want to miss getting up close and personal with a few of our local turtle activists as well as Mary, a very unique Queensland turtle with an amazing secret to share, Waltzing politicians (you might be over politicians […]
Milang Institute
info@adamidesign.com.au