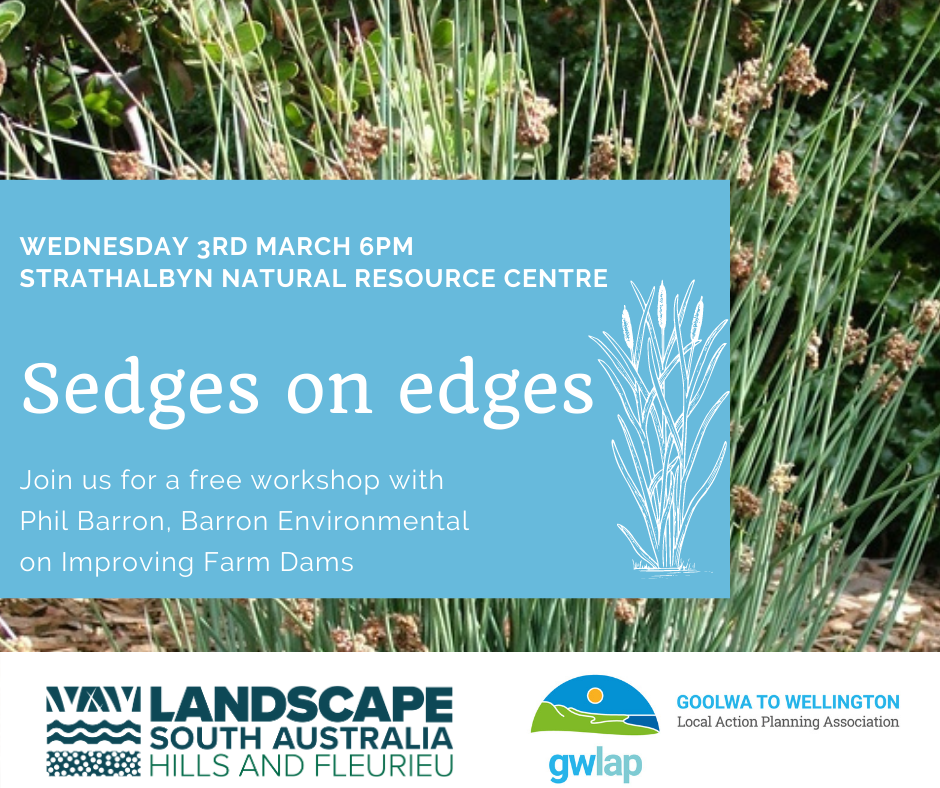 Farm dams are important sources of water and a typical sight in our dry Australian landscape.
However, open bare-edged dams can also attract bird species such as Corellas and Sulphur-crested cockatoos that can cause damage in large numbers.
Establishing low-growing native sedges can discourage the over-abundant breeding of these species and provide environmental and safety benefits.
Join us at the Strathalbyn Natural Resource Centre on Wednesday 3rd March to learn more about how to improve farm dams.
RSVP essential due to COVID restrictions.
Contact Jacqui Wilson 0400 036 843 | jacqui.wilson@gwlap.org.au.
This project is supported by the Hills and Fleurieu Landscape Board's Grassroots Grants Program, and is funded by the landscape levy.
2021-03-03 18:00
2021-03-03 19:30
Australia/Adelaide
Sedges on Edges
Farm dams are important sources of water and a typical sight in our dry Australian landscape. However, open bare-edged dams can also attract bird species such as Corellas and Sulphur-crested cockatoos that can cause damage in large numbers. Establishing low-growing native sedges can discourage the over-abundant breeding of these species and provide environmental and safety […]
Strathalbyn Natural Resource Centre
info@adamidesign.com.au