Mount Barker Wildlife Gardening
local | attractive | wildlife friendly
What we do in our gardens can either benefit or harm the natural environment around us. By choosing to develop and maintain a garden in a wildlife friendly way it is possible to:
reduce garden maintenance costs
decrease gardening and time commitments
conserve local native plants and animals
make our urban areas more ecological sustainable
Many popular introduced garden plants have escaped into our native vegetation and waterways and become environmental weeds.  Establishing a local native garden reduces this risk and helps to encourage birds, bats, lizards, frogs, butterflies and other insects into the garden.
Enjoying the sight of our unique and precious wildlife using your garden is a real pleasure and a wonderful gift to the future.
Follow the Mount Barker Wildlife Gardening Facebook page for information on wildlife gardening, local garden plants and wildlife in the Mount Barker area.
Wildlife gardening plant offer for residents of Mount Barker District Council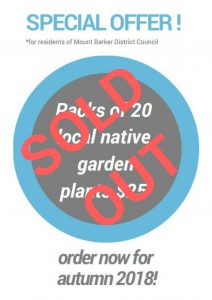 The Mount Barker Wildlife Gardening Plant Offer has now finished. We hope to be able to something similar next season. Please contact Jacqui Wilson – jacqui.wilson@gwlap.org.au if you would like to be notified of future offers.
As part of the Mount Barker Wildlife Gardening Project we are able to offer discounted packs of local native garden plants.
Packs of 20 local native species cost $25 and will be available in autumn 2018. Packs may include trees, groundcovers, shrubs or grasses and can be customised on collection to suit your space.
If you have questions or would like more information please contact Ross on 8536 5612 or ross.oke@gwlap.org.au.
This project is supported by the SA Murray-Darling Basin Natural Resources Management Board through funding from the Australian Government's National Programme and the NRM Levies