We were so lucky to have beautiful weather on Wednesday for our bird walk at Scott Conservation Park with the Friends of Cox Scrub. It was glorious.
The group of 17 bird watchers spotted 38 species of birds on the 2.5 hour walk with John Gitsham and Wendy Phillips helping with identification.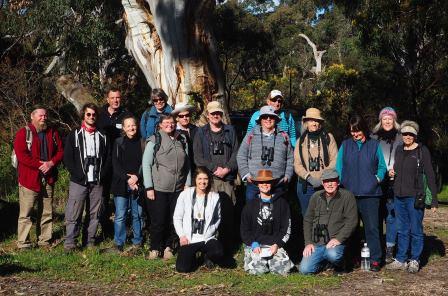 The birds included:
Maned Duck (Australian Wood Duck)

Collared Sparrowhawk

Brown Goshawk

Sulphur-crested Cockatoo

Galah

Australian Ringneck

Musk Lorikeet

Purple-crowned Lorikeet

Elegant Parrot

Crimson Rosella

Red-rumped Parrot

Rainbow Lorikeet

Horsfield's Bronze-cuckoo

Brown Treecreeper

Superb Fairy-wren

Spiny-cheeked Honeyeater

Eastern Spinebill

Red Wattlebird

Noisy Miner

White-naped Honeyeater

New Holland Honeyeater

Crescent Honeyeater

Yellow-faced Honeyeater

Striated Pardalote

Striated Thornbill

Buff-rumped Thornbill

White-browed Babbler

Australian Magpie

Black-faced Cuckoo-shrike

Grey Shrike-thrush

Golden Whistler

Grey Fantail

Little Raven

White-winged Chough

Tree Martin

Silvereye

Common Starling

Grey Currawong
Photos by Wendy Phillips
We will be holding more bird walks in Spring – details are coming.
This project is supported by the SA Murray-Darling Basin Natural Resources Management Board through funding from the Australian Government's National Landcare Programme and the NRM Levies.