Goolwa to Wellington LAP and Nature Foundation SA would like to extend our heart-felt thanks to the 121 enthusiastic volunteers who came out Sunday's planting day at Watchalunga Nature Reserve.
Together we have achieved amazing results and made the Watchalunga Planting Day in 2017 a huge success!
We planted 3800 native plants (31 different species) that will grow and provide very important habitat for the region's native animals. The weather, while cloudy and windy, remained fine, allowing volunteers from all walks of life to steam through the planting like a well-oiled machine. It was amazing to witness the cooperation and unity.
High spirits and a strong work ethic made it a fun and relaxing day for everyone!
 We could not have done this without YOU!
Nature Foundation SA and Goolwa to Wellington LAP acknowledges the partnerships and support from:
 20 Million Trees Program
Green Army
SA Power Networks Employee Foundation
Tzu Chi Foundation
A very special thanks to the SA Power Networks Employee Foundation who donated an amazing $5000 on the day to Nature Foundation SA to assist with habitat restoration work at the Watchalunga Nature Reserve.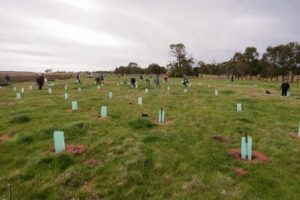 This project is supported through funding from the Australian Government's National Landcare Program.
A bit about Watchalunga…
Watchalunga is a 92 ha reserve that contains low-lying Fleurieu Peninsula swamp area on the Finniss River. It is a very important patch of remnant habitat containing highly significant South Australian biodiversity.
Watchalunga Nature Reserve is part of a former farming property owned by Mrs Elaine Poyntz and her late husband Ross. The property was identified as having high conservation value when it first came onto the market in 2011. In late 2012, an agreement was reached between Mrs Poyntz and Nature Foundation SA to subdivide and transfer the important swamp part of the property to Nature Foundation SA.
NFSA purchased the property with funds from the Land Acquisition Fund and with the support from the South Australian Government, Watchalunga Nature Reserve was officially opened in March 2015 by Minister Ian Hunter.
What makes Watchalunga special?
Swamps of the Fleurieu Peninsula are listed as a critically endangered ecological community under the Environment Protection and Biodiversity Conservation (EPBC) Act 1999. Watchalunga contains potential habitat for the critically endangered Mount Lofty Ranges Southern Emu-wren. The waters also contain high numbers of native fish. Previous flora surveys have identified 31 indigenous species; more species are likely to be found in future surveys.
Watch a video about Watchalunga here: https://youtu.be/PqqC8fdL9-c